Scanned from CYCLING, February 26, 1961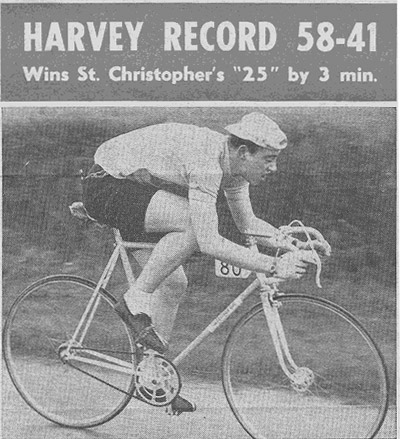 WITH an under-the-hour " 25" in the second week-end of the time trial season, record prospects look favourable for 1961. Early forecasts are always made on thin ice, of course, but after Barnet man J. Harvey's unchallenged 58-41 ride in the London St. Christopher's Catholic C.C ."25" on Sunday, there was the distant but unmistakable rumble of records toppling into the dust. Last year in this event, which is the first unrestricted gear event in the R.T.T.C. calendar, T. McGavin, Charlotteville, started the fashion in February under-the-hour rides with a time of 59-48. On a handicap of 50 seconds, McGavin was also a favourite on Sunday, but an unfortunate puncture only 4 miles from the start put him out of the running.
One. of the. four scratchmen in the full card of 120 (of whom 109 started, and four failed to finish) Harvey, a member of the Barnet champion team at the distance, has done times of 57-23 and 57-24 on the same course. But he had not won an event for over a year. On Sunday a special prize of an award valued at £2 10s. was offered to the winner if under the hour.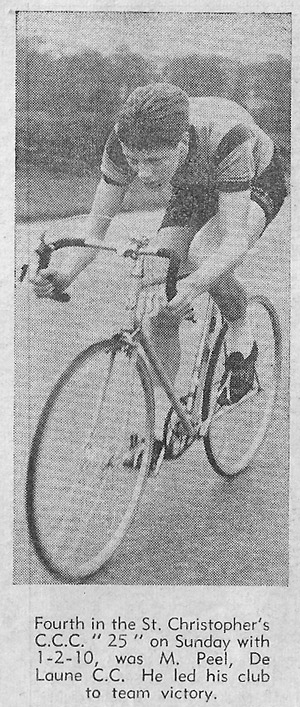 Number 80 on the card, when he got away the slight but steadily rising breeze blowing almost due north along the G.9 course was becoming noticeable in the trees against the grey overcast sky. Heading into the wind during the first half, which he nevertheless found "fairly easy going" with an 87-inch fixed gear, Harvey turned in 31-38. This was nearly two minutes better than his nearest challengers, scratchman, J. Fisher, Norwood Par. (33-17), E. Soanes. Charlotteville, who was second in last year's event, on 20 seconds· (33-23). and J. Wheeler, Festival R.C, on 1-20 (33-58). On the return, with the breeze helping, he increased his lead to finish the distance over three minutes faster than the second placed Soane, whose time was 1-1-42. The third fastest man was C. Munford, Crouch HiIl C.C., a former clubmate of Harvey before the latter joined the Barnet C.C. Riding an 82-inch fixed gear, Munford was the fourth fastest at the turn with 33-31, but picked up on the way back. and slipped in 48sec. ahead of Wheeler.
Harvey, who recently celebrated his 20th birthday, has had to limit his training practically to cycling to and from work each day so far-this year; Impending examinations will cut down his training time even more in the near future.
In the handicap competition there was a close fight, with only 28 seconds separating the first three placed. B. Hill, Epsom C.G, on 9-50 finished in first position with 58-0, and F. Lacey, West Hounslow, on 9-20 beat M. Venner, Worthing Excelsior, on 8-10, with 58-27 for second place.
| | | |
| --- | --- | --- |
| J. Harvey, Barnet C.C. | Scr. | 58 41 |
| E. Soane, Charlotteville | 20sec | 1 1 42 |
| C. Munford. Crouch Hill C.C. | 2.00 | 1 1 55 |
| M. Peel. De Laune C.C. | 2.10 | 1 2 10 |
| J. Wheeler, Festival R.C. | 1.20 | 1 2 43 |
| T. Kennedy, Bec C.C. | 40sec | 1 3 15 |
| J. Dods. De Laune C.C. | 4.35 | 1 3 23 |
| D. Whitehead, Tooting B.C. | Scr. | 1 3 32 |
| B. Potter, Old Portlians | 4.50 | 1 3 42 |
| P. Barton, 29th Wh. | 3.10 | 1 3 49 |
H'cap.-B. Hill, Epsom C.C. (9-50), 58-0. Team.- De Laune C.C., 3-15-1.