Formerly known as the Red Bull 24hr, sponsorship for by far the most popular mountain bike event on the UK calendar has now passed into the hands of Saab and outdoors equipment supplier Salomon.

For the fifth year running, the race was held at Sandwell Park Farm near Birmingham on the summer solstice weekend. Once again, De Laune had two teams, imaginatively named A and B, consisting of James' Lett, Lyon and Peckham and Ross Fryer, the honorary non-James in the A team, with Bill Wright, Cliff Steele, Simon Pamplin and Chris Fitzer in the B team. All except Chris had done the event before; in fact Chris stepped in at the last minute when Andrew King couldn't make it due to his PhD commitments.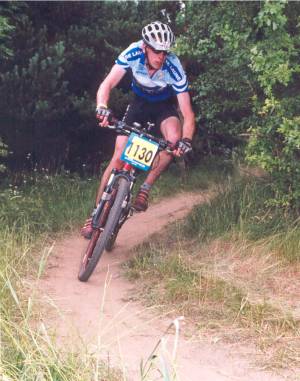 James in control
Helping the teams out were Tig, Cliff's wife Carol and James Peckham's dad, John, who supplied us with a huge van and tent complete with generator, lighting, jetwash and microwave - luxury!
We got the campsite set up on the Friday afternoon and headed off for a course recce. It was pretty similar to previous years, a 10-mile lap with a mix of open fields and wooded singletrack, although it was very bumpy and would favour lightweight, short-travel full suspension bikes. The weather was fantastic, hot and sunny with the result that the course was very dry and dusty. The course may have been similar, however the event was far bigger with 249 teams in our category compared with last years 188. We all knew we were going to have some stiff competition if we wanted to better last years 2nd place result for the A Team.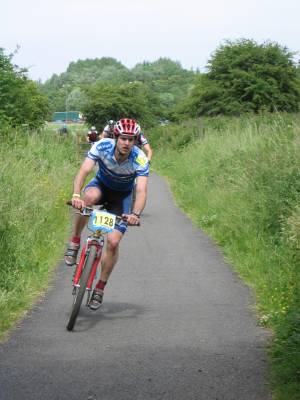 James Lett by Dave Arthur www.justride.co.uk
The race began at 2pm on Saturday with a Le Mans style run of about half a mile to get to the bikes. James Lett reluctantly volunteered to run and got a good start, picking his bike up from James Peckham and getting out onto the course in the top 40 or so. Being the new boy on the team and not really knowing the score, Chris had foolishly said that he would do the run for team B but he also came through highly placed in the field
James Lett came through in about 45 minutes and handed over to James Lyon. We'd worked out our strategy from experience gained over the previous years and had settled with a 1,2,3,4 format up until nightfall. All of us were averaging about 42-44 minute laps early on although James Lyon turned in a very quick sub-40 lap on his first time out.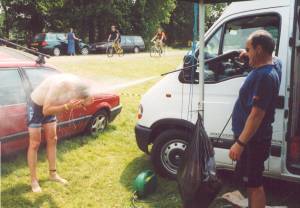 Ross is punished for riding too slowly
The A team had settled into the top ten, meanwhile the B team were moving steadily up around the top 40 mark. Everything went well up until dark when the new strategy of 1,2,1,2,3,4,3,4 came into play. This gives two team members the chance to get a decent amount of sleep while the other two swap laps. James' Lett and Lyon took the first stint, riding alternate laps through until about 4.30am then James Peckham and Ross Fryer took over riding duties until about 8.30am when we reverted back to the 1,2,3,4 format.
For Chris in the B Team it was his first time of night-riding and after his first lap, he came back with a grin like a Cheshire cat, enthusing about the experience. Riding a mountain bike, off-road, at night is something that most people would regard as certifiable, however nothing can describe the feeling of rushing through the darkness, twisting and turning along the narrow tunnel of light that is all you can see, the ever-changing shadows passing by on each side at a speed that feels twice as fast as it actually is.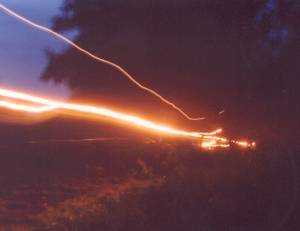 The bats couldn't work out what was coming
By now the course was getting heavily rutted, braking bumps digging up the corners and dusty ruts forming, making things quite technical in places. Ross and James Lett felt the bumps worst as they were on hardtails. Ross commented that his arse looked like the Japanese Flag although after a lap of the course everyone looked like they'd been down a coal mine; the dust covered riders from head to toe. Fatigue was getting to everyone now - there seemed to be twice as many small rises and dragging climbs as there had been at the start, hills which on the first few laps riders had gone over in a big gear, hardly noticing, but which now became an interminable drag in a middling gear, the exertion etched on riders faces. Chris in particular was finding the racing getting to him after such a long time and began to suffer slightly although Cliff and Simon and Bill were still putting out consistent 46-48 minute laps for the B Team.
The pace began getting quicker again during the morning, riders putting in more of an effort now that the end was in sight. Ross went out for his final lap and managed to dig deep into his fuel reserves, attacking hard a third of the way round the course and pulling De Laune A two places up the results table. He handed over to James Lett who completed his last lap in a fraction over 44 mins, coming into the arena 12 minutes after the bell had sounded to mark the end of the 24hrs and holding onto 6th place for the team. De Laune B had also had a battle on their hands with only minutes separating many teams after 24hrs of racing.
Final results: - De Laune A, 6th place with 32 laps in 24:12:13 and an overall average lap time of 45:22 De Laune B, 37th place with 30 laps in 24:32:01 and an overall average lap time of 49:04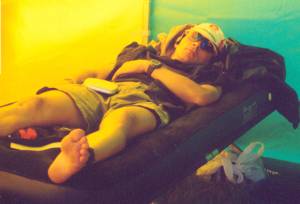 James Peckham catches some well earned sleep
On behalf of both teams, a huge thanks must go to Tig, who stayed awake for the whole 24hrs, co-ordinating 8 riders in 2 teams with endless good humour and support, Carol Steele for the fantastic food supplied at all hours of the day and night to exhausted riders and to James Peckham's dad, John for supplying the tents, van, generator, lighting and all the other bits and pieces that made the camping so comfortable rather than a hardship. We couldn't have done it without you.
James Lyon