30/08/05

Interbike RR - 2/3/4/J - 109km 28 August 2005

Sam and Myself decided to travel up to Essex to tackle our first ever road race. Over 6 rolling 18k laps.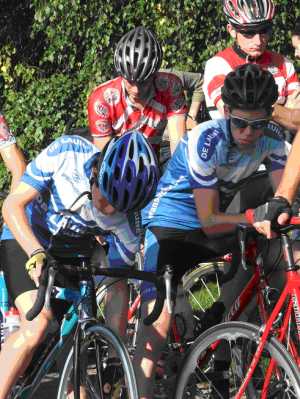 James – 'What's this on my wheel?' Sam – 'It's a bloody spoke' grumbles Sam
Our legs were feeling rather fresh considering the 11 hours of training we did in Hastings on Thursday and Friday. Probably thanks to Granny's cooking.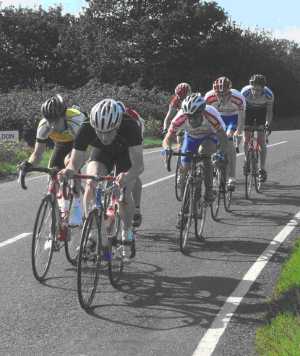 The race began with a 1.8 mile neutralised start. However many riders had itchy feet and decided to attack during the neutral zone. Further problems arose when horses turning in the road halted the whole race; this allowed the break to get a 30 second lead before the race had even begun!
With riders already away, the pace was electric for the first lap. On the third lap Sam attacked off the front of the group with four riders on his wheel. Two more quickly bridged the gap and a strong break was away. The lead groups advantage quickly tumbled under the weight of Sam's group. Falling from 2mins to 40sec after 1 lap.
Unfortunately for Sam, disaster struck on lap four when his chain snapped. "Bollocks!" The race continued with the two breaks drawing away from the main pack, creating a lead of 5minutes. James had been reserving himself in the pack during the race, and on the last-lap attacked 5miles from the finish with two other riders. Holding on to a slender lead of around 15 seconds, the small group worked well until one rider blew up and was swallowed by the chasing bunch. In sight of the finish line James jumped away from his now weary companion to claim somewhere in the region of 18th-20th place (the organisers have been rather sketchy recording and publishing results).
Sam Fensterheim and James King