The 2008 Mountain Mayhem 24hr Mountain Bike Race
Sponsored by Giant
Eastnor Castle, Ledbury, Herefordshire, June 21st-22nd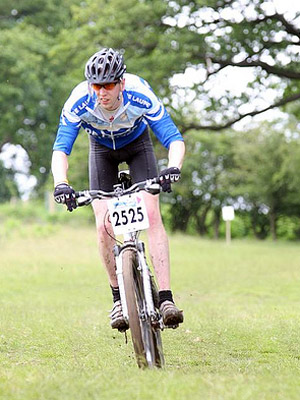 The world's biggest 24hr mountain bike race was back for its 11th year and its 5th at Eastnor Castle in the Malvern Hills. De Laune has had a team in it every year but there was a slight change to that this year as we couldn't seem to get 4 people mad enough to do it. So I opted for the most insane option and did it solo, my first ever foray into the world of 24hr solo racing – the longest I'd done up til this point was 10hrs.
I wasn't entirely on my own, various friends were also there and I'd arranged to 'share' a helper with another solo racer, a local training partner of mine. This meant I'd be able to leave the logistics of meal cooking to her while I concentrated on the riding part of things.
I arrived at the venue on Friday afternoon. The arena was buzzing, filled with trade stands, food stalls and bike demo fleets. I spent the time sorting out my little campsite near the huge Soloists Marquee and catching up with friends. The rules for Soloists are slightly different to those for team racing. You're allocated a table in a special marquee right by the start/finish line that allows you to pick up food and drink quickly and easily without having to return to a campsite, which may be several hundred yards from the arena. On Saturday morning I transferred my food and kitbag to this marquee and sorted everything into some sort of order. It probably wouldn't last long but I hoped it'd help me find my spare light batteries, food and drink with the minimum of fuss.
It was a fairly grey dull day but from what I'd heard the course was fairly dry. The weather forecast was looking ominous though; it may have been the summer solstice weekend but the rainclouds were gathering.
As the clock ticked down towards the start time of 2pm, I lined up under the Red Bull banner with the hundreds of other people ready for the carnage of the Le Mans style run to where our bikes were stacked. The race official counted us down, the horn blared and the race was on. I took it slightly easier in the run than normal but still came through in the top 100 or so, grabbed the bike and got out onto the course. I hadn't pre-ridden it this year; I'd have plenty of opportunity over 24hrs to get to know it! The course got quite congested on the first climb, so many riders all trying to squeeze into the same piece of singletrack. Things became a bit easier after a while and I settled into a decent rhythm, trying not to go out too hard.
The 8.5-mile course was more technical than usual with several sections of newly cut singletrack and off-camber rooty sections, which made overtaking difficult in places. It wasn't entirely dry either although within a lap or two the racing line appeared and things got easier and faster. I stuck to a pattern of stopping for a few minutes in the Solo Marquee each lap to stretch, refuel and swap water bottles. For the first few hours, everything was going very well, in fact I was well up inside the top 10 at this point. Riding partly with a friend who was also Solo-ing it gave us the opportunity to pace and motivate each other.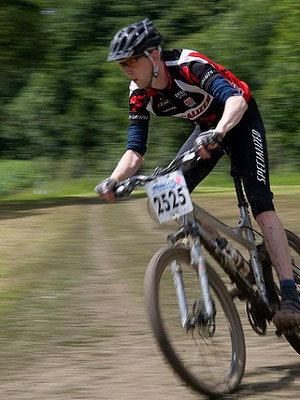 As night fell I fired up my lights and headed out again. The course seemed quieter now, the mad rush of the first few laps had died down. I started on my second night lap but I'd only been out 5 minutes when the predicted rain appeared. The downpour was short lived but heavy and it turned the track from a dryish fast course to a lethally slippery quagmire. The off-camber singletrack was like an ice rink and my tyres certainly weren't up to the challenge of gripping to it. I was all over the place and I wasn't the only one, riders were falling, slipping and walking all around me. I suffered a few offs, sometimes caused by other riders crashing or sliding around me, sometimes my fault. Eventually I arrived back in the arena on the verge of having a major sense-of-humour failure. There was a hot meal waiting for me though and I decided I'd grab a quick shower, clean all the mud off me and then head out once the course had begun to dry out again.
I headed off to the nearby showers, enjoyed 10 mins under the hot water then came back to the Marquee where I sat and sipped a coffee for a while, looking at the stream of bedraggled riders riding or walking their mud-covered bikes back after their lap. After a while I began to pull on my race clothes once more ready for another lap. I'd just about started this when the heavens opened, it really was torrential. It was about midnight and had I actually been out riding I probably wouldn't have been that bothered about it but from the warmth of the Marquee it wasn't inviting. I slipped round the corner to my tent, crawled inside and fell asleep. I had the intention of just sitting out the storm but I knew the course wouldn't be holding up at all well under this deluge. At one point I had to clamber out of the tent into the teeming rain and peg the tent down more firmly, the wind was threatening to turn it into a kite!
I woke about 6am and crawled out of the tent. My ribs hurt from where I'd come off the previous night; I guessed that I'd probably cracked one. The place looked like a war zone with a few lost souls wandering round. These lost souls were the people who'd braved it out through the night; mud covered and exhausted they pushed their bikes towards the finish line, wheels so clogged up with mud that they wouldn't turn. It looked awful. I knew there was precious little point in going out into those conditions (especially with injured ribs) so I had a hot breakfast from the catering tent and wandered back to see how everyone was getting on. The Solo Marquee was virtually deserted. Loads of people had pulled out, just packed up their stuff and gone. A few mud-covered bikes sat around, helpers trying to clean off the worst of it. However Sunday was gorgeous and with the sun the good mood returned and I knew the course would dry out rapidly. By 9am I was out on the bike again and I put in 4 steady laps in ever drying conditions to eventually finish just after 2pm.
I'm not really sure that it counts as a great entry to 24hr racing – falling asleep for 8 hours of it isn't really in the spirit of the event! However I managed 11 laps and finished 34th. Out of 122 starters only 72 finished, the remainder pulled out due to a mix of the bad weather, crashes, mechanicals and injuries. My ribs healed up OK fairly quickly but that's the second time I've cracked them and I'm not keen to repeat the experience!
| | | | | |
| --- | --- | --- | --- | --- |
| Lap | Number | Rider | Time | Speed |
| 1 | 2525 | James Lyon | 00:57:19 | 9.11 mph / 14.66 km/h |
| 2 | 2525 | James Lyon | 00:55:42 | 9.37 mph / 15.08 km/h |
| 3 | 2525 | James Lyon | 01:04:58 | 8.03 mph / 12.93 km/h |
| 4 | 2525 | James Lyon | 01:17:20 | 6.75 mph / 10.86 km/h |
| 5 | 2525 | James Lyon | 01:08:14 | 7.65 mph / 12.31 km/h |
| 6 | 2525 | James Lyon | 01:34:44 | 5.51 mph / 8.87 km/h |
| 7 | 2525 | James Lyon | 01:09:29 | 7.51 mph / 12.09 km/h |
| 8 | 2525 | James Lyon | 11:11:37 | 0.78 mph / 1.25 km/h |
| 9 | 2525 | James Lyon | 01:20:38 | 6.47 mph / 10.42 km/h |
| 10 | 2525 | James Lyon | 01:08:22 | 7.64 mph / 12.29 km/h |
| 11 | 2525 | James Lyon | 02:14:32 | 3.88 mph / 6.24 km/h |
Rider

Laps

Best

Average

Worst

James Lyon

11

00:55:42
(9.37 mph / 15.08 km/h)

02:11:10
(3.98 mph / 6.40 km/h)

11:11:37
(0.78 mph / 1.25 km/h)