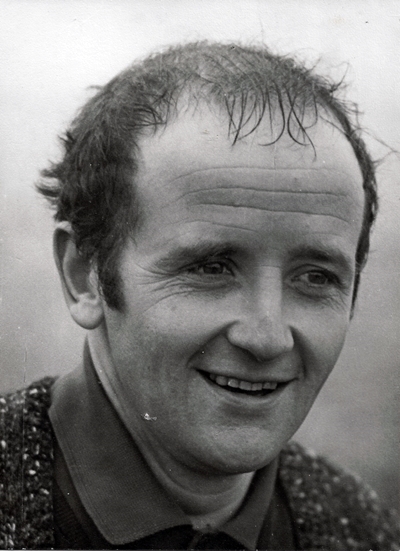 Life & Times of Tony Peachey
29 August 1936 – 8 June 2022
Tony was born on 29th August 1936 – the only son of Fred and Di Peachey in St. James' Hospital, Ousleley Road, Balham. He was taken home to 49 Rosenau Road Battersea. By May 1940 the family had relocated to the long standing home of 64a Battersea Rise, Battersea, London.
During the war years Tony and his family were evacuated to Llandaff, South Wales where Tony attended the local school from 1943-1945, he struggled with academic subjects mainly because the teaching was mainly in Welsh, however he majored in drawing and artistic subjects, which set him in good stead later in life. On return to London in late 1945 he initially attended Belleville Road School and later Honeywell Road School, continuing his education at Wandsworth Technical College to embark on ONC qualifications (Mechanical Engineering). HNC studies followed in Civil and Structural Engineering. After many years of further study he finally qualified as a Chartered Structural Engineer in 1997. To finish off his education he successfully completed a degree with the Open University in Geology in 1981.
Apart from a successful academic life he had always been encouraged by his parents - Fred and Di to take time out for sporting activities. The first sport was boxing. Fred and his older brother both attended a local boxing club and took Tony along, however Tony was never a burly individual and suffered many bloody noses and soon looked for an alternative outlet, this turned out to be competitive swimming. Tony excelled here and was taken all over the country competing for Latchmere Swimming Club and nationally. This activity lasted until 1952 when he became bored of the non changing scenery of indoor swimming pools and the grand outdoors beckoned. Fred suggested cycling, it sounded good and saw Tony selling his electric train set to purchase his first bike from Russ Cycles in Battersea. He intended to join the Balham CC but during a ride to their clubroom he punctured, being a naive 16 year old, he was struggling to sort the bike when a stalwart of the De Laune – Ken Hill – came by, he helped Tony back on the road and convinced him to join the De Laune CC.
Over the years he was proud to clock up many club records and was always quite surprised to be still holding the club records for 50, 100 and 12 hours to date. He remains a member to this day.
As a youngster he tried everything from touring, marshalling, helping out at events, riding a few time trials and road races. In his early years he preferred road racing but rode the club time time trials and also Herne Hill track. In fact he enjoyed everything about club life, generally finding his feet in the big wide world. He was not shy in taking on numerous official roles within the club of Road Racing, Time Trial Secretary, open event promoter, DLN editor, General Secretary official time keeper.
1958 saw him called to undertake National Service, albeit rather late. He had been delayed as a consequence of ongoing educational studies, however he was accepted into the RAF and instructed by the recruitment officer not to apply for any long term trade training as they wanted him in the RAF cycling team. In effect after the initial 'square bashing' training, the rest of his 18 months of his 2 year service he was a poorly paid professional road racing cyclist.
It was while racing for the RAF in 1960 on the Isle of Man that he met his future wife Val. Romance blossomed and on 1st September 1962 they were married in Our Lady of Assumption Catholic Church in Deptford. After honeymooning in Jersey they settled in a flat in Stockwell until they moved into their first house on 15th March 1965. They both started working locally for Reed Paper Group, Val in the Technical Library as a researcher and Tony in Reed Engineering as a Civil Engineer.
For the next few years cycling took a back seat whilst settling into a new home, Tony was still studying for higher qualifications. Rather than do nothing he had a spell of car rallying with a close friend, again quite successful but after a time this became a little expensive. Cycling called again and in 1969 Tony planned a time trialling mission to become a high ranked individual, nationally. It was a difficult task with a full time job, and serious studying which meant travelling to London colleges but he was determined. The 1969 comeback unfortunately was abandoned due to the sudden death of his father Fred – the planned return slipped to 1970, but again he was thwarted by sustaining a broken leg from a fall down the stairs – 1971 beckoned, after a few months of mediocre races the big year came in 1972.
Daughter Claire joined the family on 2nd December 1972 and slotted into the family unit without any hitches. Every weekend was spent racing somewhere in the UK from the west country to Yorkshire. He tackled all distances from 10 miles to 24 hours, experiencing success at every distance. Despite his dedication and back up from home, he never made the 'feted top 12 individuals' in the country, finishing 13th twice !! He was extremely proud of the fact that Claire attained National Champion status in 1990 having supported her all along the way.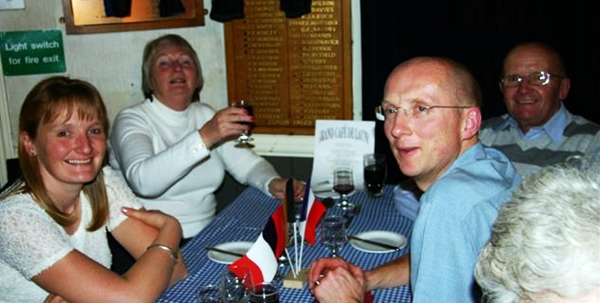 His own racing career started to tail off in 2010 when age and health issues seem to catch up with him, undergoing a heart by pass in 2012, then problems with his sight and diagnosis of non invasive bladder cancer. His wife Val has supported him what ever his interests or administrative posts he undertook, they worked as a team along the way.
Tony not only competed in cycling time trials he also gave his time to the administration of the sport both locally and nationally, spending over 50 years on the local CTT District Committee, 15 of those years as the General Secretary. In recognition of his work and dedication to cycling he was awarded a Gold Badge of Honour by the CTT National Committee when he retired in 2018. A truly prized possession, one that he treasured more than all the competition medals and records he accumulated along the way.
Val, Claire & Ian 12-06-22