Updated 24 February 2010
Our open Cyclo-Cross event was on 5 December 2009
Photos from Nigel Scales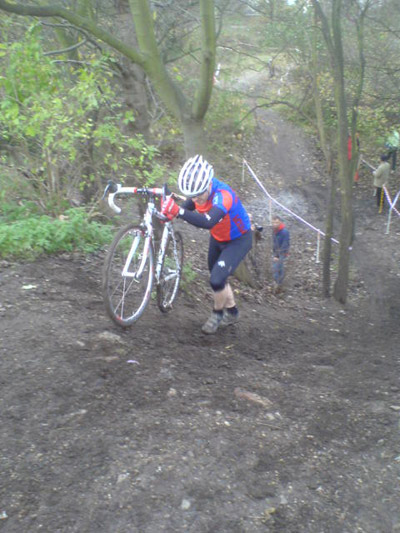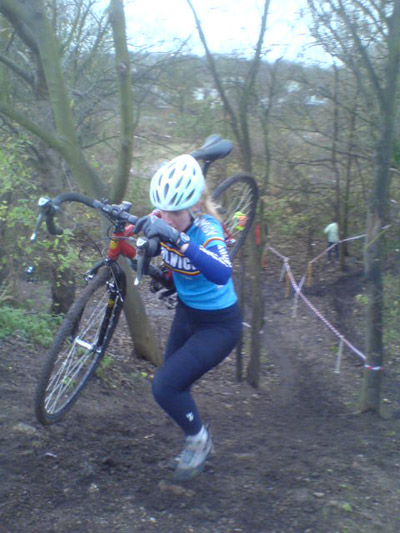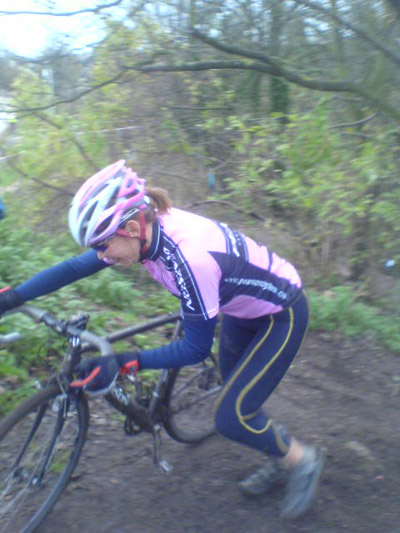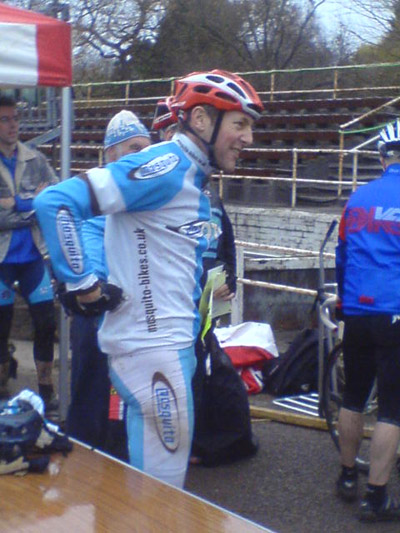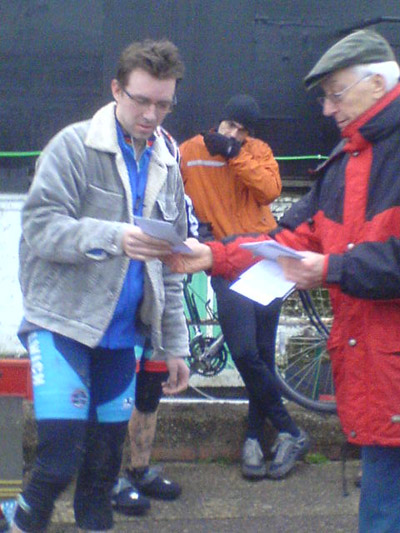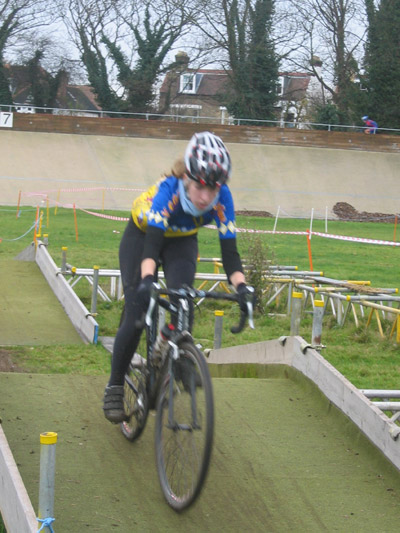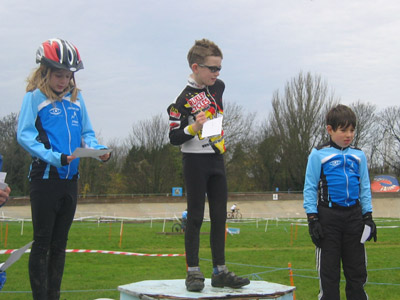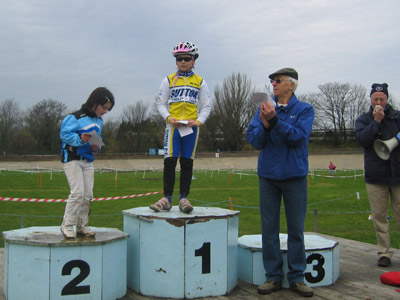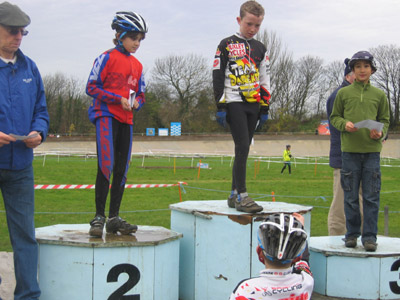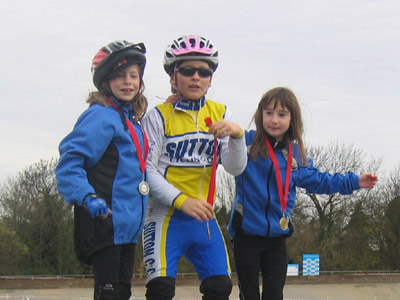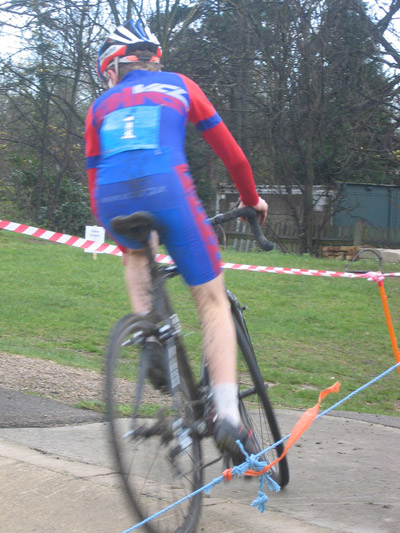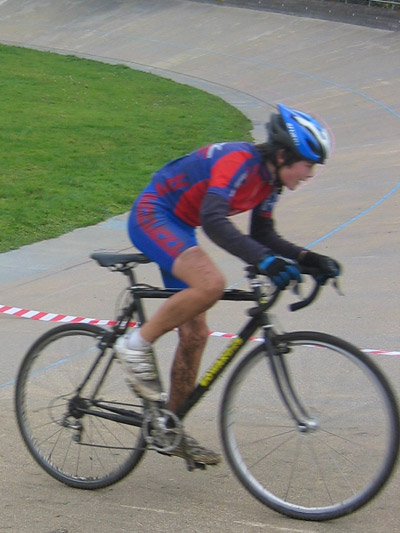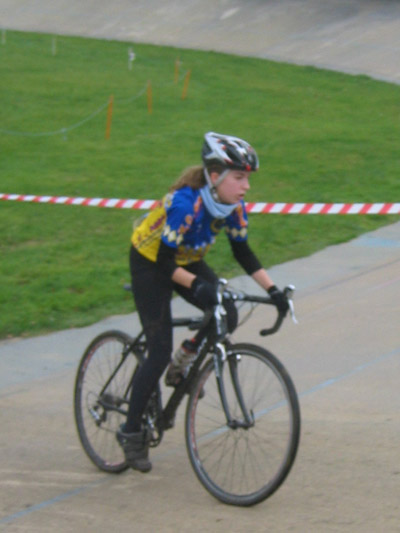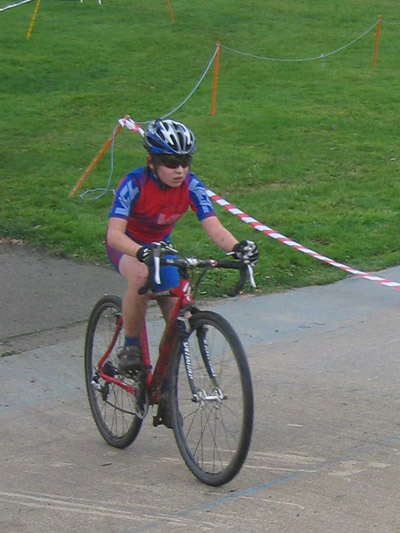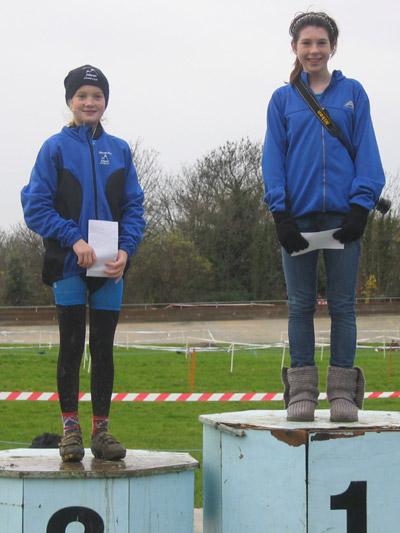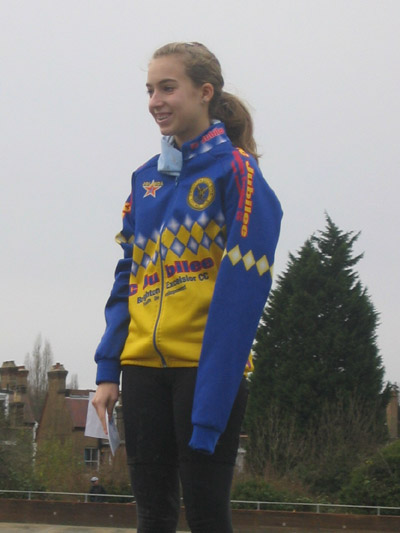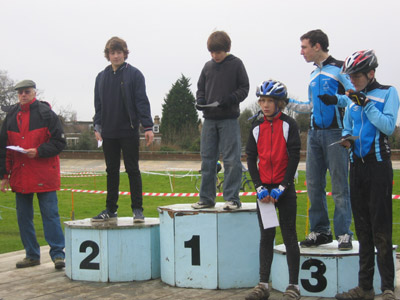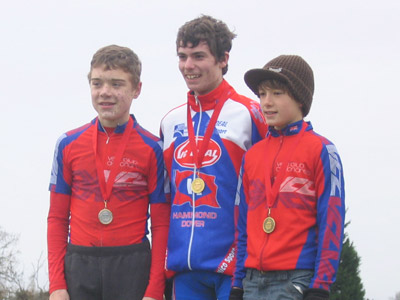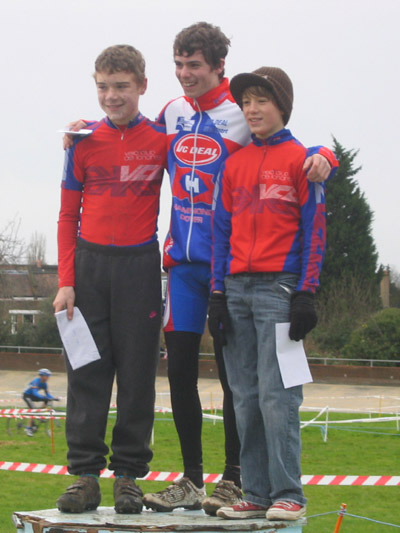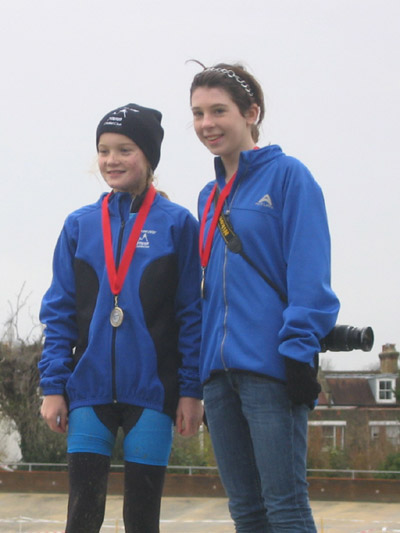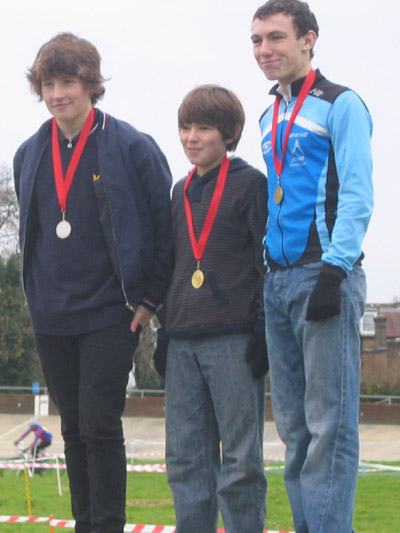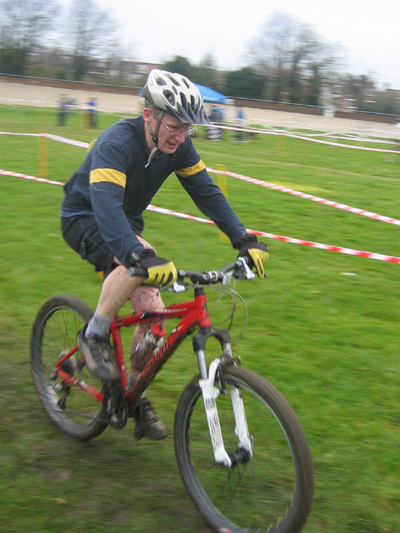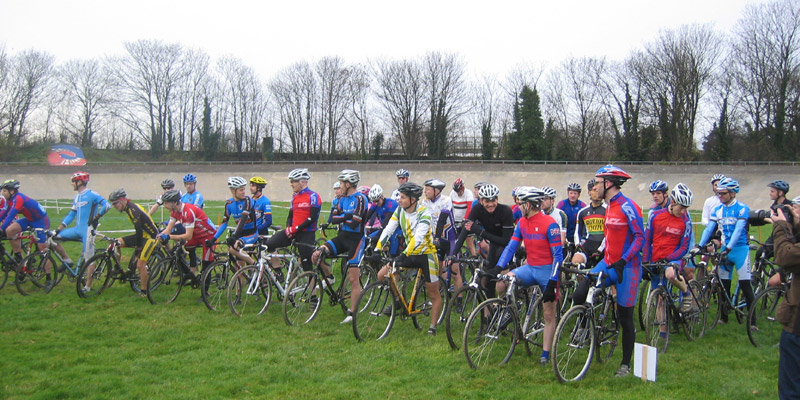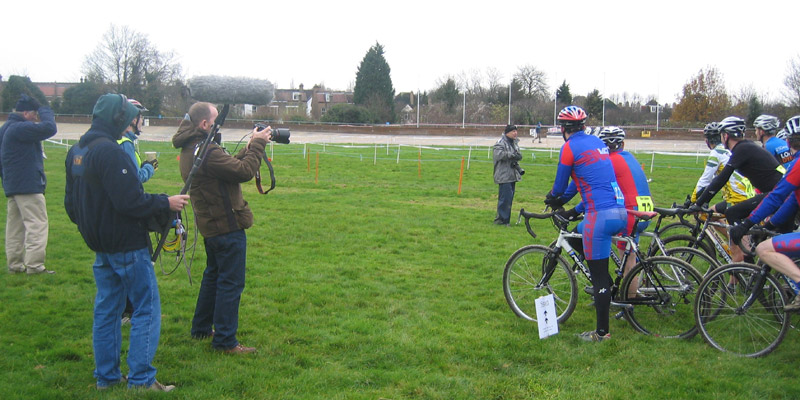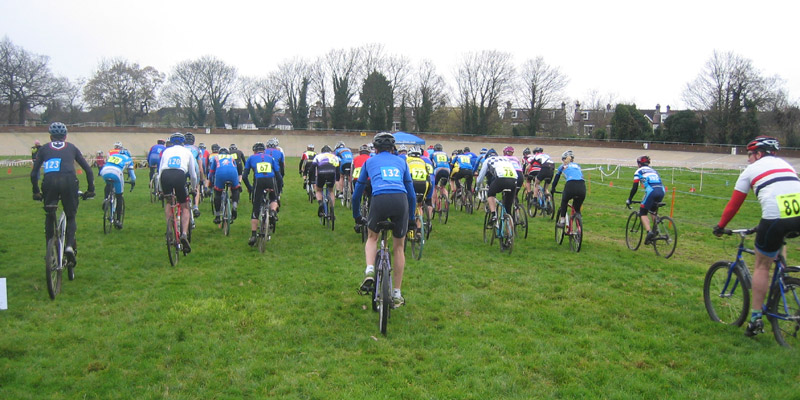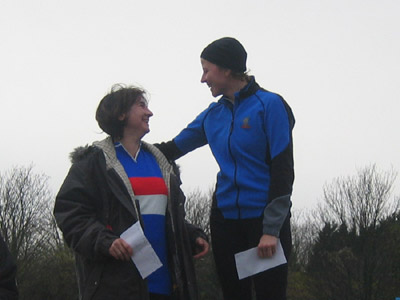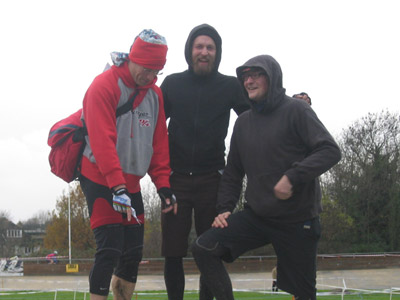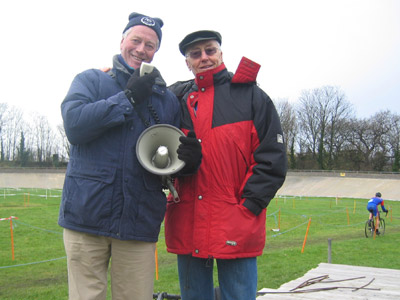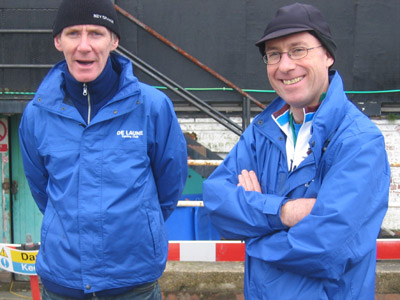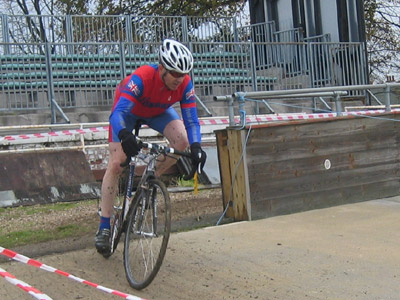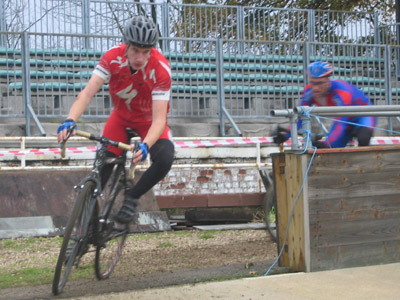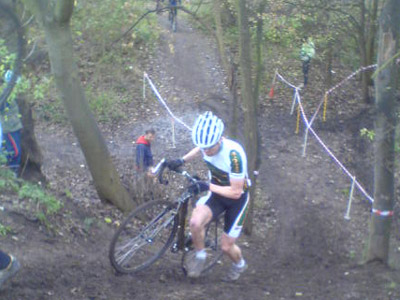 U10 race
A large field of 25 U10s took to a challenging grassy circuit around Herne Hill Velodrome, including a large contingent from home club Herne Hill Youth CC. After some changes in the lead early on, Nathan Martin (Team Darenth) established a lead from Gemma Heath (Sutton CC) and newcomer Joe Bertram (HHYCC). Like many other riders, Hayden Cassidy (HHYCC) found some heavy grassy stretches hard going later on, but stayed clear of the rest and finished a very good 4th place.
U12 race
From early on, Toby Martin (Team Darenth) showed his experience and built up a lead over James Mitri (VC Londres), with Thomas Burnett (Preston Park Youth CC) a short way back. Theo Codrington (HHYCC) just managed to overhaul Rachel Jary (VC Londres) in the closing stages to take 4th place.
U14 and U16 Race
The under 16ís and under 14ís race saw close battles and spirited riding up and down the field. Jack Finch (VC Deal) took the honours of 1st U16 boy in terrific style. After taking the lead early, he never looked like being caught as he powered to the finish line well clear of his competitors. Kim English (Preston Park Youth CC) was 1st U14 girl with a fine performance that would also have won her the U16 girlís race. Noah Phillips (VC Londres) was 1st U14 boy with an excellent 5th place overall. Further down the field the racing was no less exciting with Daniel Taylor and Tim Leake (both Herne Hill Youth CC) locked in a duel to the line, with Tim narrowly edging out Daniel for 5th U14 boy.
Novice Race
The novice race saw 17 enthusiastic starters finding their feet in the wonderful sport of Cyclo Cross. Some laughed, some cried, but they all had fun! Rob Milton quickly built up an unassailable lead that he held all the way to the finish. The ride of the race however came from Tom Killiu who went from 7th after 1 lap to finish 2nd on the line despite taking a tumble and badly cutting his arm, chapeau!
Senior/Veteran/Junior
The main event got off to a typically hectic start. Vet rider Matt Seaton (Mosquito Bikes) led through the crucial first turn, but Jules Birles (VC Londres) was on a mission and stole the lead before hitting the single track. Birles had built up a slim advantage after the first lap was looking good. Behind him Seaton had slipped back to 3rd as Mark Drayton (London Dynamo) entered the mix. Over the next few laps Birles looked to be fading and was eventually caught by the fast moving duo of Seaton and Drayton. The three rode together for a few laps until Drayton made his move at the hurdles and gradually pulled out a commanding lead. Drayton picked up a puncture on the last lap but still managed to bring it home for his first ever win. Birles took 2nd in front of a disappointed Matt Seaton who had to content himself with 1st Vet. Elise Sherwell (Pearson Cycles) edged out Maryka Sennema (Kingston Wheelers) to take 1st Woman after a race long scrap that saw the lead change many times.
James King & Bill Wright
U10 event - 11.00 am - 25 starters
1
151
Nathan Martin
Team Darenth
2
153
Gemma Heath
Sutton CC
1st Girl
3
156
Joe Bertram
HHYCC
4
158
Hayden Cassidy
HHYCC
5
166
Angus Hawkins
6
150
Tom Martin
HHYCC
7
159
Max Taylor
HHYCC
8
173
Louis Harman
HHYCC
9
170
Lois Samphier
2nd Girl
10
160
Freddie Taylor
HHYCC
11
152
Alex Aiders
HHYCC
12
162
Joseph Blackmore
HHYCC
13
163
Kitty Phillips
HHYCC
3rd Girl
14
169
Peter Maytom
HHYCC
15
157
Amelia Coombes
HHYCC
16
171
Joe Dutton
HHYCC
17
175
Hua Hua Stockman
HHYCC
18
161
Taidgh O'Rourke
HHYCC
19
174
Sam Pritigas
HHYCC
20
168
Alex Ferri
HHYCC
@1 lap
21
155
Harry Peachey
22
167
Alexa Hawkins
23
172
Jake Purcell
HHYCC
24
165
Eleanor Voce
HHYCC
25
164
Laura Bevan
HHYCC
U12 event - 11.20 am - 9 starters
1
100
Toby Martin
Team Darenth
2
102
James Mitri
VC Londres
3
103
Thomas Burnett
Preston Park YCC
4
108
Theo Codrington
HHYCC
5
105
Rachel Jary
VC Londres
6
104
Rory Thomas
HHYCC
7
107
Oscar Harman
HHYCC
8
106
Joshua Bakare
HHYCC
@ 1 lap
9
101
Holly Bardsley
HHYCC
Novice event - 12.45 pm - 17 starters
1
1
Rob Milton
2
15
Tom Killiu
3
4
Thomas Stone
Rollapaluza CC
4
10
Mark Jary
VC Londres
5
8
Ian Craig
VC Etoile
6
16
Neil Bardsley
HHYCC
7
5
Duncan Rimmer
8
9
Bruce English
Lewes Wanderers
9
14
Adam Harman
HHYCC
10
7
George Lewis
De Laune CC
11
17
Camilla Ng
1st Woman
12
13
Nigel Wood
13
3
Mike Jubb
14
11
Will Mordaunt
HHYCC
15
12
Julie Read
HHYCC
2nd Woman
Results printed using software from www.beastway.com
1
Sen
134
Mark
Drayton
London Dynamo
00:06:08
00:59:59
10 laps
2
Sen
129
Jules
Birles
VC Londres
00:06:01
01:00:12
10 laps
3
Vet
64
Matt
Seaton
Mosquito Bikes
00:06:03
01:00:15
10 laps
4
Sen
130
Kevin
Ball
Dulwich Paragon
00:06:44
01:05:39
10 laps
5
Vet
76
Stuart
Lockyear
London Phoenix
00:06:59
01:06:26
10 laps
6
Sen
126
Andrew
Carnall
Agiskoviner
01:00:06
9 laps
7
Vet
82
Andy
Seltzer
East Grinstead CC
01:00:08
9 laps
8
Vet
83
Mark
Brown
Dulwich Paragon
01:00:33
9 laps
9
Sen
124
Joss
Miller
London Phoenix
01:00:52
9 laps
10
Vet
61
Andrew
Powers
01:01:02
9 laps
11
Sen
122
Bryan
Taylor
VC Londres
01:01:41
9 laps
12
Vet
70
Philip
Burnett
Mosquito Bikes
01:01:46
9 laps
13
Sen
128
Andrew
Snowball
VC Londres
01:01:59
9 laps
14
Vet
73
Steve
White
VC Londres
01:02:14
9 laps
15
Vet
62
Charles
Codrington
Dulwich Paragon
01:03:20
9 laps
16
Vet
68
Kevin
Perkins
Seeds CC
01:03:59
9 laps
17
Vet
67
Stephen
Blackmore
Seeds CC
01:04:11
9 laps
18
Vet
79
Nick
Kinsey
Tri UK
01:04:33
9 laps
19
Sen
125
Terry
Penn
Evans Cycles
01:04:57
9 laps
20
Vet
66
Paul
Atkinson
Seeds CC
01:04:59
9 laps
21
Vet
77
Tony
Bartlett
Corridori
01:05:09
9 laps
22
Vet
71
Geoff
Nutter
01:06:43
9 laps
23
Wom
191
Elise
Sherwell
Pearson
01:07:31
9 laps
24
Wom
193
Maryka
Sennema
Kingston Wheelers
8 laps
25
Sen
123
Caspar
Hughes
Rollapaluza CC
8 laps
26
Vet
78
Mark
Cooper
8 laps
27
Sen
133
Toby
Blackman
VC Londres
8 laps
28
Vet
74
Steve
Wood
London Dynamo
8 laps
29
Vet
72
Mick
Curtis
Corridori
30
Sen
132
Chris
Broadbent
31
Vet
75
Roger
Hornsby
GS Avanti
32
Wom
192
Melissa
Wadams
Dulwich
33
Vet
80
Bruce
McMichael
Hounslow & District
34
Jun
180
John
Carron
DNFs in no particular order
DNF
Sen
135
Stuart
Spenis
London Dynamo
DNF
Sen
131
Yasuyah
Sakurai
Brixton Cycles
DNF
Sen
127
Derek
Randall
DNF
Vet
69
Shane
Kake
DNF
Sen
120
James
O'Brien
DNF
Vet
65
Philip
Harris
San Fairy Ann

---
Club Cyclo-Cross held at Herne Hill on Saturday 4 March 2006
Full results here http://www.londoncyclesport.com/reports_2005_x/herne_hill4.html
| | |
| --- | --- |
| | |
| The winner pulling away... | Ross working his way through |
| | |
| Climbing Cliff... | What goes up... |

---
2002/3 Sixth report:
Done it at last! a London league win for the full report check out the link http://www.londoncyclesport.com/x_reports/london_02_race_13_rep.html
For the personal touch here a few words: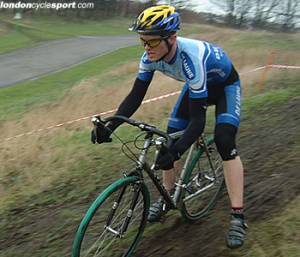 Over the moon to get my first win particularly as my father came to watch his first cross race of the season and that the family had has particularly bad news the previous day. My disappointment of not making to the nationals were offset by this result. Due to the pressures of work and family I had not trained for three weeks after the Foots Cray quagmire (round 11) which I was forced to pull out from and gained this result of a week of considered training.
On reflection the cross season was a great success, having started the season with no expectations, to the extent that I found myself heading the field in the first race I entered, sadly I didn't finish as I punctured and was yet to acquire a spare set of wheels. I will concentrate on cross solely for the coming year and prepare with that in mind which will see me at a great many crits in the run up to September trying to gain that edge that will make overall success in the London league a possibility.
Steven
---
Fifth report:
Round ten of the 2002/2003 Mosquito/Kinesis London Cyclo-Cross League and final Sussex League held at Brighton on December 22. Organised by Brighton Excelsior CC.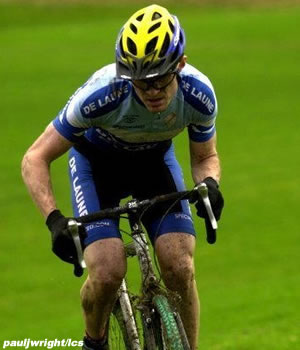 A second second place a good habit but I would love to have that top step. I started badly and never sniffed the front and spent the entire race chasing a fast disappearing figure. I didn't have the best of days but it was good enough to hold my position despite dropping to third briefly when the Moulscomb park mountain, it went to the lowest point of the course to the highest, not quite your regular cross circuit.
Pos No Name Cat Team Time
1 Sam Gardner Evans RT
2 Steven Price De Laune CC
3 Jon Sharpe Saucony/Evans
4 Mick Bell London Fire brigade 1st Veteran
5 Ben Lockwood GS Invicta
6 David Law Arctic RT
7 Brian Curtis Coridori
8 Andy Seltzer East Grinstead CC
9 Carl McDonagh Brixton Cycles
10 Neil Simpson London Phoenix
I started round 11 at Foots Cray meadow the following Friday but climbed off after 30 minutes, I started strongly and held second for 25 minutes until it all fell apart, Christmas had left me absolutely spent, families eh!
The next two rounds were cancelled/waterlogged which leaves two rounds and the next race more than two weeks away, 26 January - By which time I should have dispatched the Christmas blues. Unfortunately despite starting my cross campaign a little late and missing a couple of rounds I will not have a great overall standing but I can hold my head high knowing that this was my first cross season for three years and I loved it and it was my most successful.
I'm now 66th in the national rankings, not bad considering I have had only one national result.
---
Fourth report:
I finished 29th which I was very pleased , top 30 was my aim. The race was a complete mud fest with incessant rain which didn't stop until I was warm and dry that evening. This was my one and only trophy race of the year I quickly realised what a huge step up it is from the weekly London League jaunts, the speed was phenomenal in spite of the conditions. I now look forward to the national champs and take a lot of confidence from this result. If I can achieve top 20 in Birmingham I will be over the moon. http://www.londoncyclesport.com/x_reports/x_nat_trophy_5_reports_02.html , check out the link for the full report and a load more very muddy pics.
Last Sunday I finished 6th at the London league held at Hillingdon added to the win I gained at round 10 of the south west league. For what its worth I'm now racing up the national rankings from 194 the month before to joint 82.
Steven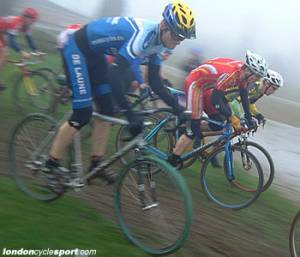 Report from James Peckham. The Howard School, Rainham 4th rd of the national cyclo x series. Nick Craig 1st, Barry Clarke 2nd (points series winner), 3rd Matt Ellis, 4th Roger Hammond, Steve Price was lapped just short of the finish - he came in 29th
Not terribly good photos but shows the conditions nicely. It was not night but the conditions where dreadful, pea soup heavy rain etc.
---
Third report:
Latest update from the cross world. Mosquito/Kinesis London League Cyclo-Cross Round 6
2nd, best result of the series so far and thoroughly pleased with myself. Having not visited Hillingdon for a very long while I was pleasantly pleased to find a great deal of sand had been laid around the perimeter and inner tracks making for a very fast and flowing course.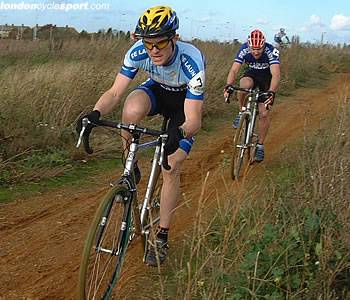 As usual the wind was everpresent and gave you a reminder every time you came into the home straight. I crossed the line at the end of the first lap in 4th and could already see that there was a gap to first place but second and third stayed grouped. I bridged the gap to second and third and quickly dropped my company and continued what would be a race long chase to close the gap to 1st. Although I got the gap down to 10 sec at the half way point that was as close as it got as my rear tyre was slowly losing pressure. The gap was probably 30 sec at the finish, knackered but extremely pleased to get one over a couple of riders higher than me in the overall standings and £25 richer, can't be bad.
Next Sunday I will be lining up for the London and South East championships fingers crossed that the form holds.
Until next week
Steven
---
Second report:
Round four of the 2002/2003 Mosquito/Kinesis London Cyclo-Cross League held at The Howard School, Derwent Way, Rainham, Kent on 20 October 2000.
Rain was always close at hand, but it never really set in and the course remained in good condition with little mud plugging needed. Once the groove was set the riders were able to sustain fast laps, although if any got cocky they could find themselves losing it on the grass off-camber banks and turns.
A number of London League front runners were busy racing at the National Trophy round 2 at Cheltenham, which meant that others had an opportunity to shine.
The senior race saw a stirring fight between Matt Holmes (Arctic RT), Jon Sharpe (Saucony), Steven Price (De Laune) Warrick Spence (Bikepark), Matt Starey (Pearson Cycles), GS Invicta duo Ben Lockwood & Jon Lyons, and Phil Rayner (Halfords Bikehut).
Just a fraction back from the leading group was a line of riders that included Gary Hipwell (Rugby Velo), Anthony Muir (Wigmore CC), Rob Purcell and Ivan Jordan (Omega RT).
With a fast pace being set on the November National Trophy course, Holmes and Sharpe began to move away from the battle being conducted by Spence, Price, Starey and Lockwood.
As the race progressed Sharpe was unable to keep close contact with Holmes whilst gaps had developed between Price, Spence, Starey and Lockwood who was now falling back. It was tense stuff as 3rd, 4th and 5th spot tried to chase each other down. On one lap gains would be made, but on the next it would be lost.
Holmes crossed the line to win after 9 laps and just under a minute later Sharpe did the same. Price never gave up hope of catching Sharpe and was rewarded with 3rd with Spence a little while later, Spence making his cross debut was happy with his race and had learnt that its' best to spin rather that turn big gears. Starey was next up and Lockwood 6th.
Emma Wood (London Phoenix) rode away from team-mates Abigail Armstrong and Stevie Betts to win the women's category. Graham Parkin (Team 2000) was best Veteran.
Results - Position Rider Name Club Laps
1 26 Matt Holmes Arctic RT 9
2 3 Jon Sharpe Saucony 9
3 40 Steven Price De Laune CC 9
---
First report:
From a personal view the race was only my second of the season and I'm beginning to find my legs and really pleased with the result, just gutted that I messed the sprint for fourth up.
Seniors A string of riders came through on the completion of lap 1 led by Stuart Blunt (Corridori) with Matt Holmes (Arctic RT), Mark Russell (VC Meudon), Ian Field (San Fairy Ann) Steven Price (De Laune), Steve Hamblin (Folkactive) and Mick Bell (London Fire Brigade) wheel to wheel. Blunt was able to gain a slight lead until his chain became jammed in his rear wheel and as Blunt disentangled himself and trapped his thumb in the process, Holmes went away from the rest. A hurried judgement would have declared Holmes the winner at this point as his lead looked like it would take him to victory, but Blunt was now back in the action and he set a string of very fast laps to catch and pass Holmes to win by over 30 seconds.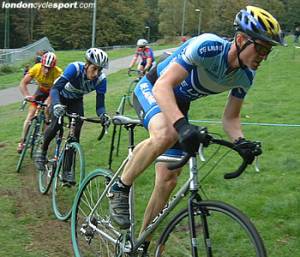 The battle for 3rd was a classic, Mark Russell had crashed and was fighting to get back onto the wheels of Field, Price, Bell and Hamblin. As Russell began to catch the trio, first Hamblin fell off the pace and then Bell, leaving Price and Field to race tooth and nail to the line. Russell went past Bell and Hamblin to catch Price and Field, leaving both behind as he rode to 3rd.At the line it was Blunt, Holmes, Russell with a sprint settling 4th in favour of Field over Price. Next up was Bell who took the Vets race. Behind these riders there were more battles being keenly fought and the spectators were treated to plenty of last lap action. Ian Field was top Junior and Abigail Armstrong (London Phoenix) was top woman after fighting to get her confidence back after crashing heavily at Eastway the previous day.
Results: Position Rider Name Club Laps
1 23 Stuart Blunt Corridori 12
2 14 Matt Holmes Arctic RT 12
3 4 Mark Russell VC Meudon 12
4 131 Ian Field San Fairy Ann CC 12
5 19 Steven Price De Laune CC 12
6 31 Mick Bell London Fire Brigade 12
7 26 Richard Masters Wigmore CC 12
8 2 Steve Hambling Activ Folkestone 11
9 159 Carl McDonagh Brixton Cycles 11
10 5 Mark Burden London Phoenix 11

---
Weekend 10/11 February 2001
The De Laune Team - James Peckham, Ross Fryer, Cliff Steele & James Lyon were 2nd overall in the London Cyclo-Cross Assn Team event at Eastway this morning. James P had an outstanding ride and finished 2nd behind Chris Remnant of VC Meudon, despite putting his excuses in early that he was on antibiotics from flu. Ross put in a good solid ride to finish 11th, and Cliff was not far behind, with a meritable ride. James Lyon had recovered strongly from a bad start, but was eventually forced to pull out with knee trouble.
The winners were a team from new club London Phoenix CC, based in Brixton.
Nick Kinsey continued his domination of the Thanet bi-athlon winning for the fourth year running.

---
13 January 2001- Nick Kinsey takes Bronze Medal in the Veterans National Cyclo-Cross Championships.

---
29 October 2000 - De Laune CC 111th Anniversary Open London Cyclo-Cross Championship & Brixton Cycles Under-12s Festival
Full results and pictures click here...

and follow the links.