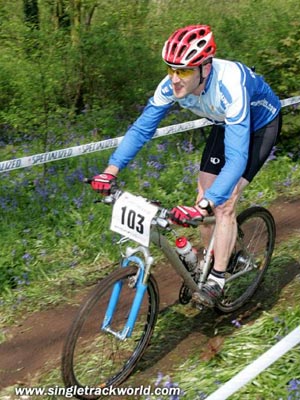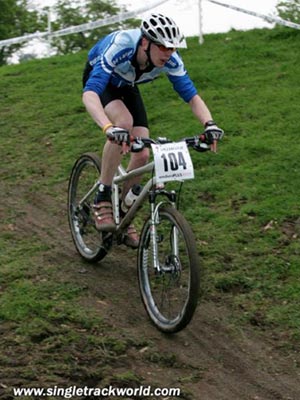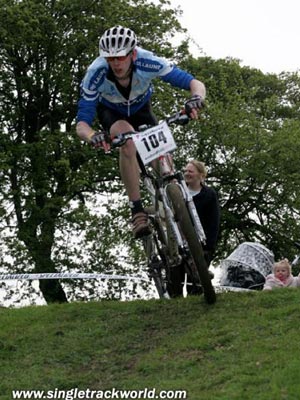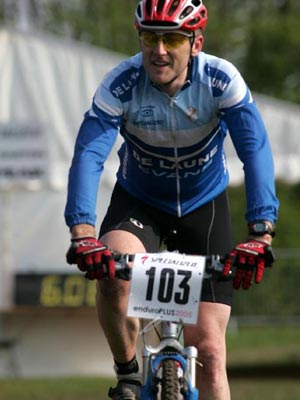 Photos courtesy of Mark Alker www.singletrackworld.com
The venue for this years 'Enduro6' (now called EnduroPLUS) was changed from the usual Trentham Gardens course to Catton Park near Tamworth, a course that has previously hosted rounds of the National Points Series. Catton Park is regarded by many as a fairly flat circuit and, while it's certainly less hilly than Trentham, anyone who has ridden more than 3 laps will confirm that it's definitely not flat!

Ross and I had teamed up again for this event although a near disaster ensued on Saturday night when Ross realised that he was unable to get a hire car. A quick set of phone calls followed before Bill Wright stepped in and lent Ross his car for the weekend with strict instructions that Ross was to drive it like he owned it. Ross turned up on Sunday morning having done the 2hr London to Tamworth drive in 1hr 40 minutes…

It had rained slightly on Saturday night and the weather early Sunday was still looking a bit undecided. The course was very greasy in places, the clay soil hadn't taken kindly to the rain and Ross quickly swapped to mud tires. The event is run under "parc-ferme" rules meaning that there is a large Pit Zone and each pair of riders is allocated a 6' by 4' space where they must store all necessary kit for the 6 hour race – tools, clothes, food, chair, umbrella, sense of humour. The Pit Zone contains toilets and a water tap and racers are only allowed out of this Zone if they are on the course racing. We were ready in our little space by 9.45am, waiting for the race to start at 10. By now, the sun had started to appear and by lunchtime, it was a blazing hot day and the course began drying out rapidly. I'd pre-ridden the course on Saturday so knew what to expect and Ross had already made it clear that he wasn't doing the Le Mans style run at the start so I lined up just behind mountain biking legend and former 6-times World Mountain Bike Champion Ned Overend who'd come over from America at the request of the event sponsors Specialized and was racing with his son as part of a publicity team. Also present was British Olympic rider Nick Craig and several other big names from British mountain biking. Ross and I were going to have our work cut out…

The 800m run to the bikes was over fairly quickly and I came into the pit area just behind Nick Craig to pick my bike up from Ross and ride out onto the course. We'd decided to ride double laps of the 5.25-mile course thus giving each of us an hours riding followed by an hours rest. I completed my 2-lap stint in almost exactly one hour and handed over to Ross. I spent the next hour eating energy food and talking to Ned Overend who, although he is 55 (over twice my age), was still managing to ride a lap almost 5 minutes faster than either Ross or I were able to. By the time I started out on my 3rd and 4th laps, the course had dried out considerably although a lot of the singletrack sections in the woods had the consistency of plasticene, which made for an energy-sapping ride. The long draggy climb at the back of the course seemed to be getting longer and steeper with each lap too but at least it was warm and sunny and Team De Laune was only just outside the top 10. We had a race-long battle with the guys in the next Pit Area to us as well. One of them was about 1 minute quicker a lap than either Ross or me, the other guy was about a minute slower so we were neck and neck for most of the race. It was only when one of them had a mechanical in the last 15 minutes of the race that Ross was able to get past putting us in a creditable 12th place out of 84 teams in the Men's Pairs race. We'd completed 12 laps between us in a time of 6.05.52. Each of us had ridden 6 laps 32 miles 2750ft of climbing And annoyingly enough, Ross got the fastest lap time, 9 seconds quicker than me! Note: my first lap time includes the 800m run at the start.
| | | |
| --- | --- | --- |
| Lap | Rider | Time |
| 1 | 104, James Lyon | 00:32:39 |
| 2 | 104, James Lyon | 00:29:01 |
| 3 | 103, Ross Fryer | 00:29:12 |
| 4 | 103, Ross Fryer | 00:28:52 |
| 5 | 104, James Lyon | 00:30:09 |
| 6 | 104, James Lyon | 00:30:45 |
| 7 | 103, Ross Fryer | 00:29:16 |
| 8 | 103, Ross Fryer | 00:30:57 |
| 9 | 104, James Lyon | 00:30:04 |
| 10 | 104, James Lyon | 00:31:46 |
| 11 | 103, Ross Fryer | 00:31:06 |
| 12 | 103, Ross Fryer | 00:32:05 |
| | | | | |
| --- | --- | --- | --- | --- |
| Rider | Laps | Fastest | Average | Total |
| 103, Ross Fryer | 6 | 00:28:52 | 00:30:14 | 03:01:28 |
| 104, James Lyon | 6 | 00:29:01 | 00:30:44 | 03:04:24 |
James Lyon