I decided to take a cycling holiday this summer and ride through France, loosely following the Route Des Grandes Alpes, a 700km route running from Thonon-Les-Bains near Geneva to Menton on the Cote D'Azur near Nice. The route goes over 18 cols including many of the most famous Tour mountains including the Galibier, the Izoard and the Colombiere. I had a flight booked out of Nice 10 days after I landed in Geneva and had planned to try and ride as many mountains as possible with a couple of 'rest' days pencilled in just in case. I wanted to travel as lightly as possible so packed the absolute minimum into a small day-pack and would stay in hotels and bed and breakfasts.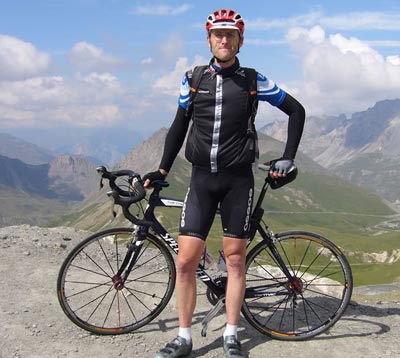 When I flew into Geneva the weather had turned and whereas the week before it was about 35 degrees, it was now about 15 degrees with really heavy showers. On my first day of riding I went over the three cols Colombiere, Aravis and Saises (the last two featured in Landis' 'comeback' stage in this years' tour after which he failed the test) and suffered badly in the cold and wet (it was 4 degrees and mist-shrouded over the summits). I hadn't realised how profound the temperature drop would be as I climbed and I now know that for each 1000 metres of elevation gain, the temperature drops by 6 degrees. Without a crowd handing up copies of L'Equipe to stuff up my jersey, the descents were a shivering torture and I was soon desperate to get climbing again. On that first day I only travelled 70k but was climbing for three hours (2645m) and I was a little worried about finishing the route in time! I decided to deviate from the main route the next day as the weather was terrible and I would have had to go over the Iseran, a 2770m monster and it would have been close to freezing up there. I cheated a bit and went down the valley from Beaufort to Bourg d'Oisans over the Glandon (an absolute bugger of a climb which forced me to stop and have a breather for the first and last time on the whole ride).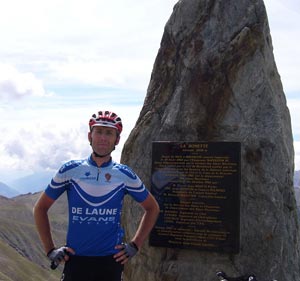 Bourg d'Oisans is at the base of Alpe d'Huez and I spent a couple of days there as it is a fantastic base from which to ride some monster climbs. It was a relief to dump my pack and ride unencumbered for a couple of days and the weather had changed completely as I was now much further south. I loved cycling up Alpe d'Huez and managed the 13k in 55 mins which was OK but the best thing about it is it is an absolutely wonderful descent, very fast, flowing and safe. It's an easy climb on it's own but I wouldn't fancy it at the end of a 150k stage. On my second rest day I rode over a couple of smaller, beautiful cols nearby and prepared myself for the hardest day of the trip.
I had to get to Briancon and could have gone over the Lautaret but I really wanted to do the 'daddy' of the Tour mountains, the Galibier. This meant that I had to ride over the Croix de Fer, the Mollard, the Telegraph and the Galibier, completing 170k and 4300m of climbing. It was going to be a long day. It turned out to be the best days cycling I've ever had and I actually enjoyed every minute of it (and there were plenty of minutes as it took me over 8 hours). The Galibier was busy with cyclists of all shapes and sizes trying to get to the top of the seemingly endless climb. Whilst only one chap overtook me on the ascent, I was descending very carefully from the top when an old lady on a shopper overtook me. She was wearing a nice blue headscarf under her helmet. It could have been an hallucination bought on by the oxygen debt but I swear she was going about 70km/h!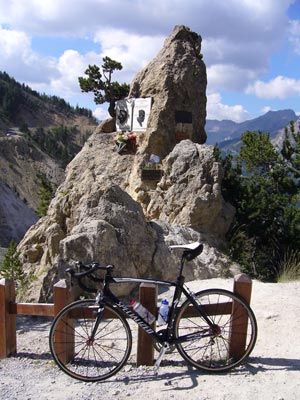 The next day was another 'biggie' over the Izoard (stunning and busy) and the Vars (stunning and quiet), two lovely climbs over 2000m. As I was descending from the Izoard there was a stream of triathlon loons going up it as part of an ironman event. I would have thought that the last thing you need in a triathlon is a 20k climb but the French seem to like their very hard sports. The next day was my second planned rest day in the lovely town of Barcelonette in the Ubbaye valley, another wonderful place for cycling. As the weather was gorgeous and the riding superb I rode a 160k route over three cols the next day and felt like I was flying over the deserted roads. I was searching out the best climbs by this time in the ride and my climbing had improved immeasurably. Undoubtedly I was fitter than at the beginning but the weather was perfect and I also knew what to expect in terms of gradient and duration.
My last really big day on the route involved going over the Col de La Bonnette, a 30k climb over highest paved road in Europe at 2800m. At the top was a sign to Nice 100k to the south. After a couple more days weaving through the very beautiful southern Alps I was speeding into Menton at the end of my journey, ahead of schedule. This meant that I had another day to ride the hills around Nice, working on my absurd cyclists' tan and sipping espresso in little cafes watching the world go by (more often than not on a very expensive road bike).
By the end of the trip I had ridden 1100k in 10 days with 22000m of climbing over the following cols:-
| | | | |
| --- | --- | --- | --- |
| Colombiere | 1613m | Izoard | 2360m |
| Aravis | 1486m | Vars | 2108m |
| Saises | 1650m | Cayolle | 2326m |
| Glandon | 1924m | Champs | 2087m |
| Alp D'Huez | 1830m | Allos | 2247m |
| Ornon | 1367m | Bonette | 2800m |
| Croix De Fer | 2068m | St Martin | 1500m |
| Mollard | 1630m | Turin | 1604m |
| Telegraph | 1566m | Castillion | 706m |
| Galibier | 2645m | Vence | 970m |
| Lautaret | 2057m | | |
It was an absolutely fantastic trip and even though I tried the Landis diet of beer and whiskey to boost performance, I generally found croissants, croque monsieurs and coffee more effective. Where next? How far is it from London to Rome?